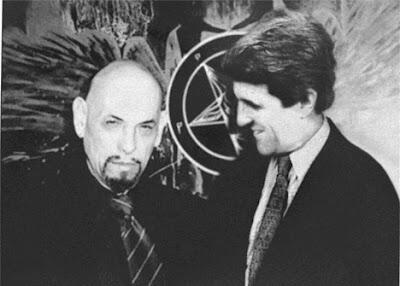 Bonesman John Kerry With Anton Lavey Founder Of The Church Of Satan
Let's Go Down The Rabbit-hole A Little! Today Is 3/22 & This Is The Number of The Order of The Skull & Bones! This Is In Relation To Gen 3:22! Then the LORD God said, "Behold, the man has become like one of Us, to know good and evil. And now, lest he put out his hand and take also of the tree of life, and eat, and live forever" 3+2+2=7 G Is The 7th Letter That You See In The Masonic Square & Compass! They Use The Term Golgotha Due To The Crucifix! Christ Was Crucified At Golgotha Meaning Place of The Skull! Lk 23:33 And when they came to the place which is named Golgotha, they put him on the cross, and the evil-doers, one on the right side, and the other on the left! This Order's History Is Supposedly Linked To Yale University! Hence A Saying In The Conspiracy World "They All Hail From Yale"! This Saying Alludes To The Knowledge That Many People Have About The Orders Evildoing! A Willis Robertson The Father of Famed Illuminati Televangelist Pat Robertson Is Said To Be A Part of This Order! Hence Robertson's Ministry Is The 700 Club Which Is 007 Backwards Because These People Operate Under Cloak & Dagger! Prescott Bush Was A Senator & Banker That Financed Was An Intricate Part Of Financing The Rise of Adolph Hitler! George HW Bush Was A Former President, Vice President, & Head of The Central Intelligence Agency! He Is Responsible For Architecting The Global Black Market For Drug Trafficking, Human Trafficking, & Pedophilia! These Are Just A Few Members of This Wicked Institution! But Don't Believe Me Look It Up!
The Secret Origins of Skull & Bones
The story begins at Yale, where three threads of American social history — espionage, drug smuggling and secret societies — intertwine into one.
Elihu Yale was born near Boston, educated in London, and served with the British East India Company, eventually becoming governor of Fort Saint George, Madras, in 1687. He amassed a great fortune from trade and returned to England in 1699. Yale became known as quite a philanthropist; upon receiving a request from the Collegiate School in Connecticut, he sent a donation and a gift of books. After subsequent bequests, Cotton Mather suggested the school be named Yale College, in 1718.
A statue of Nathan Hale stands on Old Campus at Yale University. There is a copy of that statue in front of the CIA's headquarters in Langley, Virginia. Yet another stands in front of Phillips Academy in Andover, Massachusetts (where George H.W. Bush ('48) went to prep school and joined a secret society at age twelve).
Nathan Hale, along with three other Yale graduates, was a member of the "Culper Ring," one of America's first intelligence operations. Established by George Washington, it was successful throughout the Revolutionary War. Nathan was the only operative to be ferreted out by the British, and after speaking his famous regrets, he was hanged in 1776. Ever since the founding of the Republic, the relationship between Yale and the "Intelligence Community" has been unique.
In 1823, Samuel Russell established Russell and Company for the purpose of acquiring opium in Turkey and smuggling it to China. Russell and Company merged with the Perkins (Boston) syndicate in 1830 and became the primary American opium smuggler. Many of the great American and European fortunes were built on the "China"(opium) trade.
One of Russell and Company's Chief of Operations in Canton was Warren Delano, Jr., grandfather of Franklin Roosevelt. Other Russell partners included John Cleve Green (who financed Princeton), Abiel Low (who financed construction of Columbia), Joseph Coolidge and the Perkins, Sturgis and Forbes families. (Coolidge's son organized the United Fruit company, and his grandson, Archibald C. Coolidge, was a co-founder of the Council on Foreign Relations.)
William Huntington Russell ('33), Samuel's cousin, studied in Germany from 1831-32. Germany was a hotbed of new ideas. The "scientific method" was being applied to all forms of human endeavor. Prussia, which blamed the defeat of its forces by Napoleon in 1806 on soldiers only thinking about themselves in the stress of battle, took the principles set forth by John Locke and Jean Rosseau and created a new educational system. Johan Fitche, in his "Address to the German People," declared that the children would be taken over by the State and told what to think and how to think it.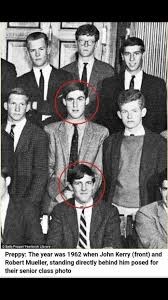 Senator John Kerry Seen With Former Special Counsel for the United States Department of Justice Robert Mueller
Georg Wilhelm Friedrich Hegel took over Fitche's chair at the University Of Berlin in 1817, and was a professor there until his death in 1831. Hegel was the culmination of the German idealistic philosophy school of Immanuel Kant.
To Hegel, our world is a world of reason. The state is Absolute Reason and the citizen can only become free by worship and obedience to the state. Hegel called the state the "march of God in the world" and the "final end". This final end, Hegel said, "has supreme right against the individual, whose supreme duty is to be a member of the state." Both fascism and communism have their philosophical roots in Hegelianism. Hegelian philosophy was very much in vogue during William Russell's time in Germany.
When Russell returned to Yale in 1832, he formed a senior society with Alphonso Taft ('33). According to information acquired from a break-in to the "tomb" (the Skull and Bones meeting hall) in 1876, "Bones is a chapter of a corps in a German University…. General Russell, its founder, was in Germany before his Senior Year and formed a warm friendship with a leading member of a German society. He brought back with him to college, authority to found a chapter here." So class valedictorian William H. Russell, along with fourteen others, became the founding members of "The Order of Scull and Bones," later changed to "The Order of Skull and Bones".
The secretive Order of Skull and Bones exists only at Yale. Fifteen juniors are "tapped" each year by the seniors to be initiated into next year's group. Some say each initiate is given $15,000 and a grandfather clock. Far from being a campus fun-house, the group is geared more toward the success of its members in the post-collegiate world.
The family names on the Skull and Bones roster roll off the tongue like an elite party list — Lord, Whitney, Taft, Jay, Bundy, Harriman, Weyerhaeuser, Pinchot, Rockefeller, Goodyear, Sloane, Stimson, Phelps, Perkins, Pillsbury, Kellogg, Vanderbilt, Bush, Lovett and so on.
William Russell went on to become a general and a state legislator in Connecticut. Alphonso Taft was appointed U.S. Attorney General, Secretary of War (a post many "Bonesmen" have held), Ambassador to Austria, and Ambassador to Russia (another post held by many "Bonesmen"). His son, William Howard Taft ('87), is the only man to be both President of the United States and Chief Justice of the Supreme Court.
2. Secrets of the "Tomb"
The Order flourished from the very beginning in spite of occasional squalls of controversy. There was dissension from some professors, who didn't like its secrecy and exclusiveness. And there was backlash from students, showing concern about the influence "Bones" was having over Yale finances and the favoritism shown to "Bonesmen."
In October of 1873, Volume 1, Number 1, ofThe Iconoclast was published in New Haven. It was only published once and was one of very few openly published articles on the Order of Skull and Bones.
From
The Iconoclast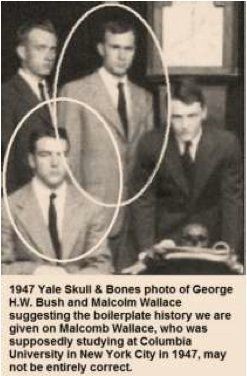 Former President George H.W. Bush & Malcolm Wallace Former Economist For United States Department of Agriculture and served as a press secretary for President Lyndon B. Johnson.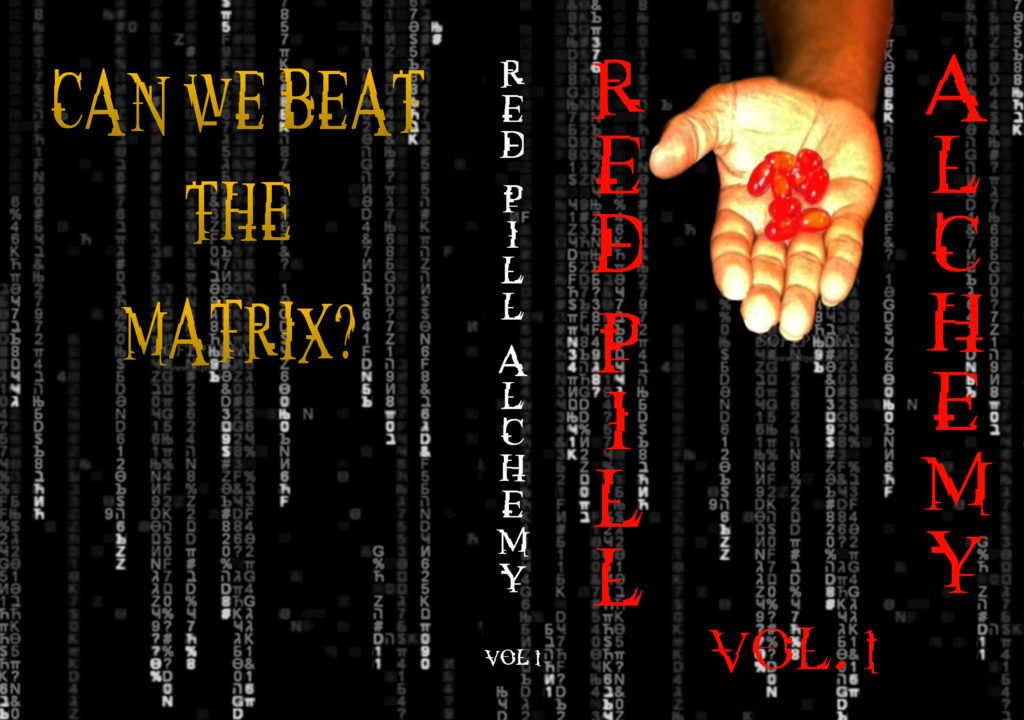 FOLLOW ME
https://linktr.ee/darealyoungbred
Sources
https://www.businessinsider.com/most-powerful-members-yale-skull-and-bones-2017-3?fbclid=IwAR1h42WmwzXiJ1rsgc5KcCE_iVrv2mA4WTP5jf4zQj9-cKakwtjo5Dm7IEc
(1) What is the history behind Yale's Skulls and Bones Society? – Quora